EXPERIENCE SKYTAG
Trampoline and Laser Tag fun for everyone
SKYTAG is a year-round destination-entertainment center. Our wall-to-wall trampolines offer several activity areas including air ball basketball, trampoline dodgeball, foam pit and many more! Be amazed when you play LASER TAG in our 8000 sq ft 2 level laser tag arena. SKYTAG is the ultimate venue for active social outings, intense individual workouts, memorable birthday parties and group or corporate events. Book your event with us today and let our team take care of you like family.

Premier Customer Service – Our commitment to your total enjoyment
At SkyTag, we take our customer service seriously. Our entire team is focused on ensuring that you have safe fun all the time. If you have questions or would like to know more about the SKYTAG facilities, please feel free to ask a member of our team – it's our pleasure to address whatever is on your mind.
We encourage our guests to provide their feedback to our managers. Your comments and ideas enable us to continually improve the SKYTAG experience for everyone.

NO EXPERIENCE NECESSARY!
Get off the couch! SKYTAG is suitable for all ages and fitness levels. We offer guests a wide variety of physical activities including open jump fun and Laser Tag! This makes us the perfect venue for your next date night, birthday party, family event, corporate event, school, church or camp destination!
SAFETY IS OUR #1 PRIORITY!
Whether you're jumping on our trampolines or playing in our laser tag arena, it is important for participants to follow the set rules and, safety guidelines and to jump or play within their own ability. At SKYTAG we want all our jumpers and taggers to leave our facility with happy memories and exciting stories to share with their friends.
We are committed to ongoing efforts that ensure a safe trampoline and laser tag environment through superior structure, staff training in safety and first response, research, education and planning. Staff members perform daily and weekly equipment and maintenance checks to ensure all trampoline and laser tag equipment is functioning properly. SKYTAG also enforces strict adherence to our rules and reserves the right to ask guests who are acting in a way that may endanger themselves or others to immediately leave the premises.
ADRENALINE RUSH
WHO WILL FINISH FIRST?
SKYTAG's Adrenaline Rush challenges your mental and physical limits. This action obstacle course lets you bring recess back to your work week, train in a unique way or compete with your friends.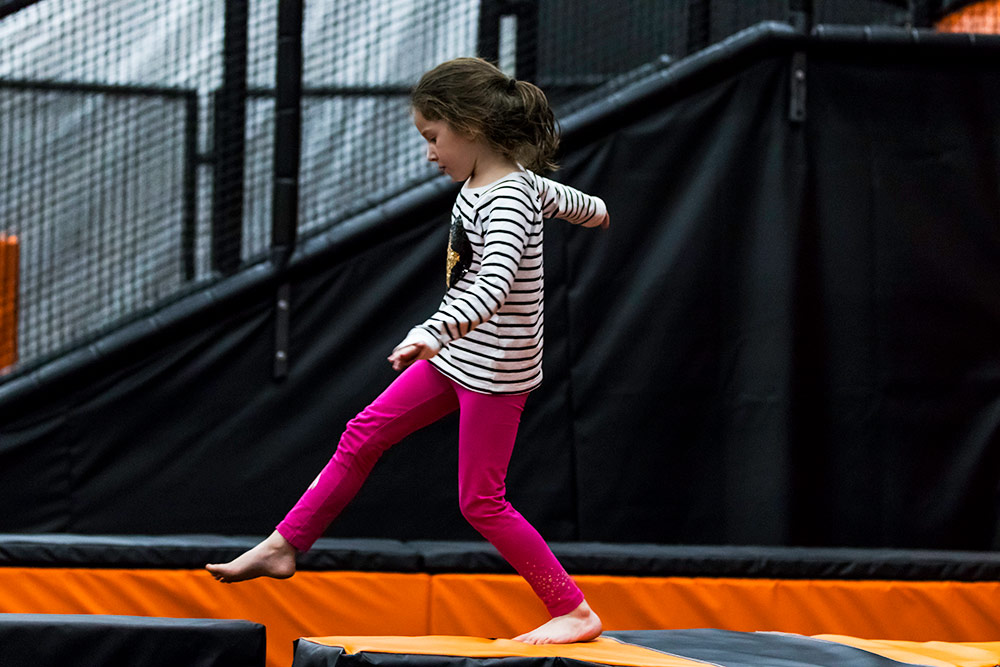 WIPEOUT
WHO WILL BE THE LAST ONE STANDING?
Try your luck on SKYTAG's Wipeout battle. This 8-player trampoline action game challenges your stamina, your agility and your reaction time. With numerous settings and speeds, the giant sweeper arms attempt to knock players head over heels. The longer you last the harder it gets.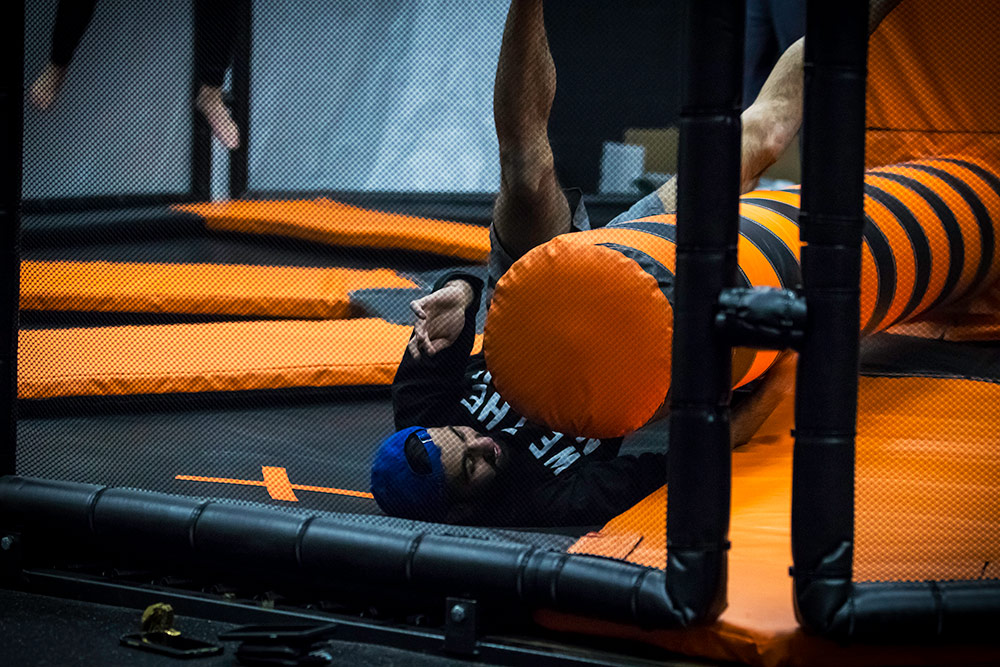 FREESTYLE
HOW HIGH CAN YOU FLY
Defy Gravity with wall-to-wall trampolines. Freestyle jumping for every level and every style, from beginners to aerial acrobats, from toddlers to seniors. Come freestyle jump at SKYTAG for the time of your life.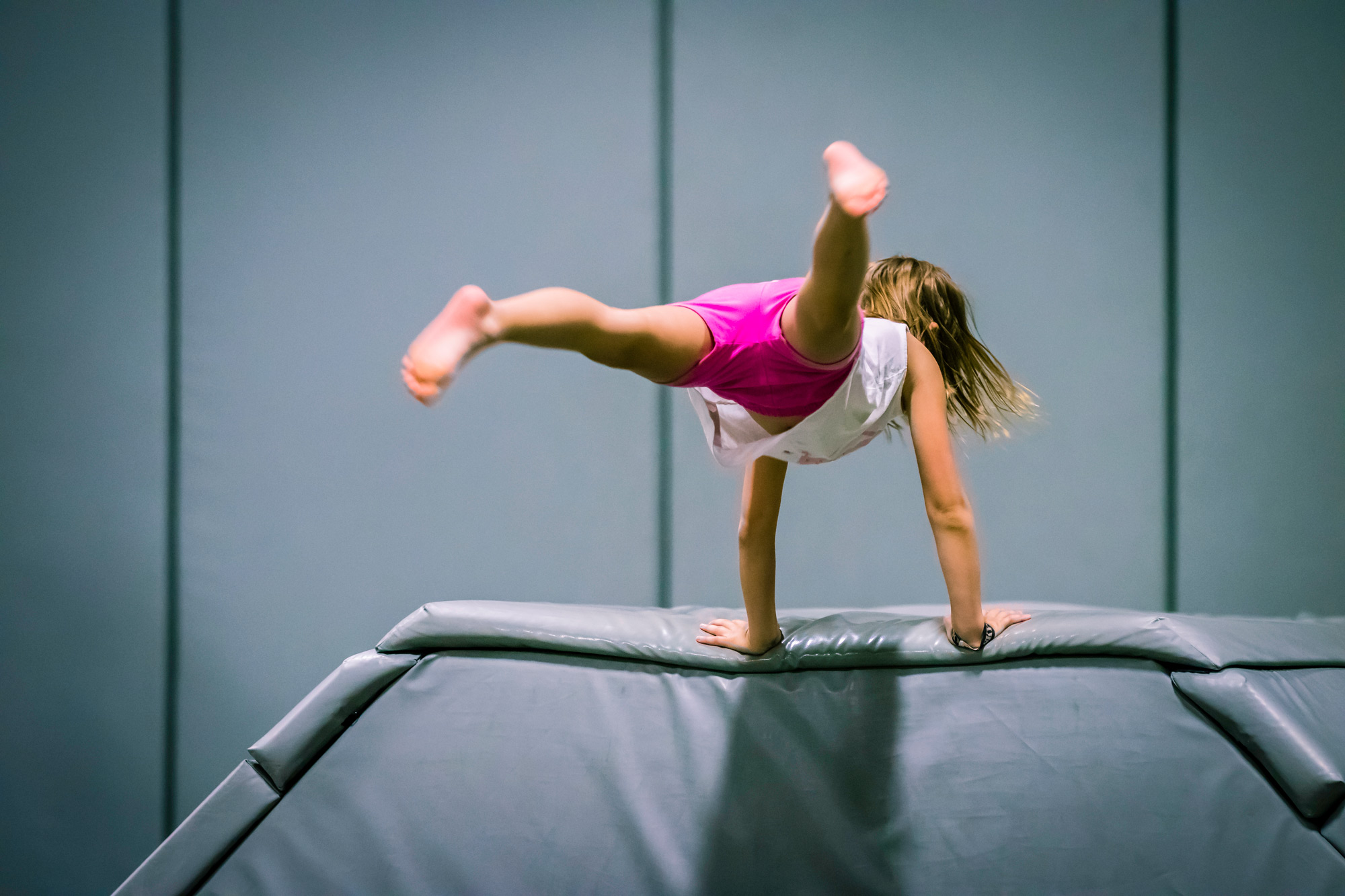 AIRBALL
TAKE FLIGHT TO THE RIM
Alley-Oop, Lay-Up, or Dunk? Whatever basketball move you dream of doing, let SKYTAG's AIRBALL add some spring to your basketball game. Playing on trampolines gives you the added bounce to step up your basketball skills and feel like you're ready for the NBA!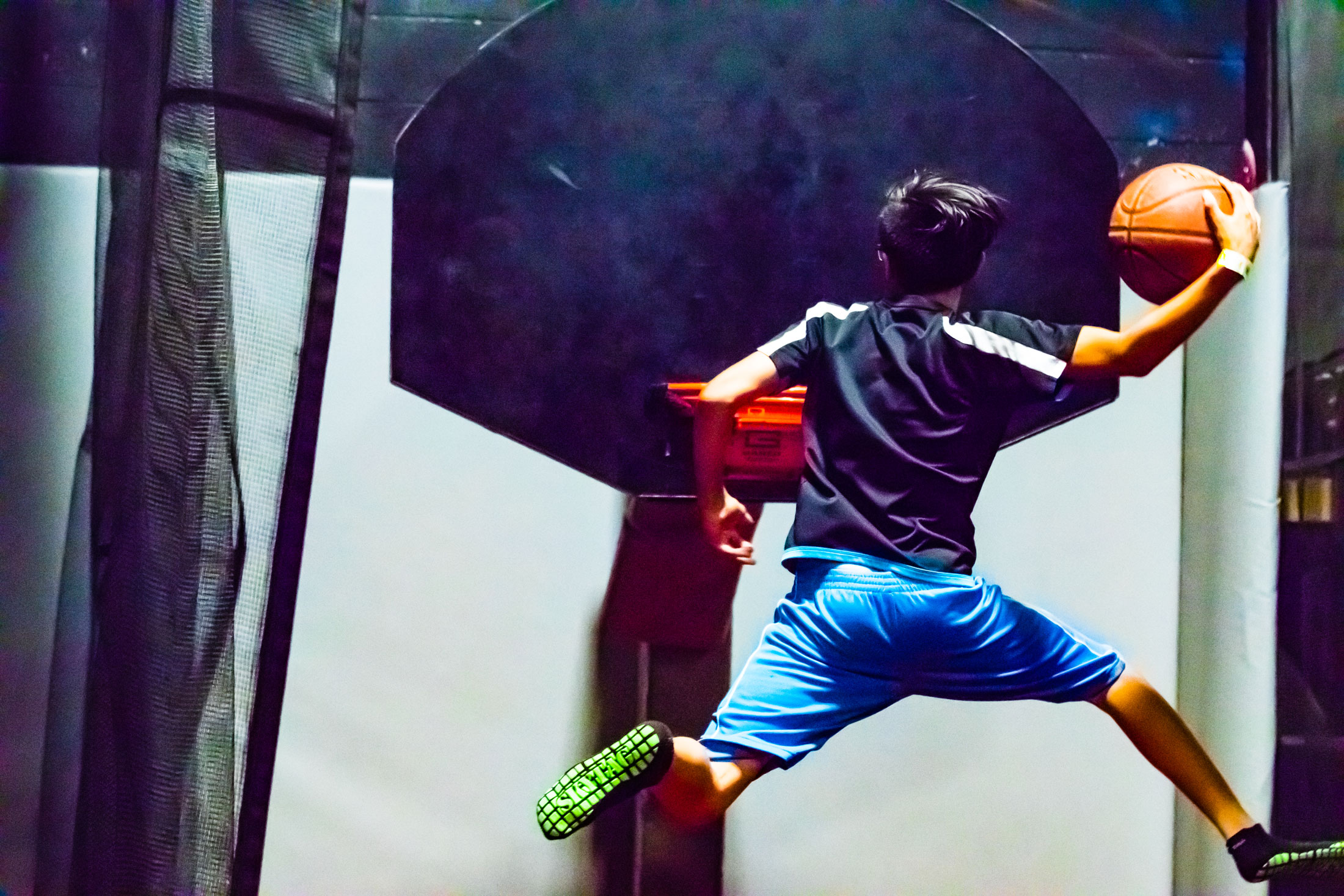 EXTREME DODGEBALL
CAN YOU SURVIVE THE PACE
Duck. Dive, Deke. Jump. - Dodgeball with wall-to-wall trampolines = Intense fun! If you're ready to have a blast defying gravity while playing dodgeball, then come to SKYTAG and experience trampoline dodgeball.
Dodgeballs + Wall-to-Wall Trampolines = Intense Fun! Are you Ready!!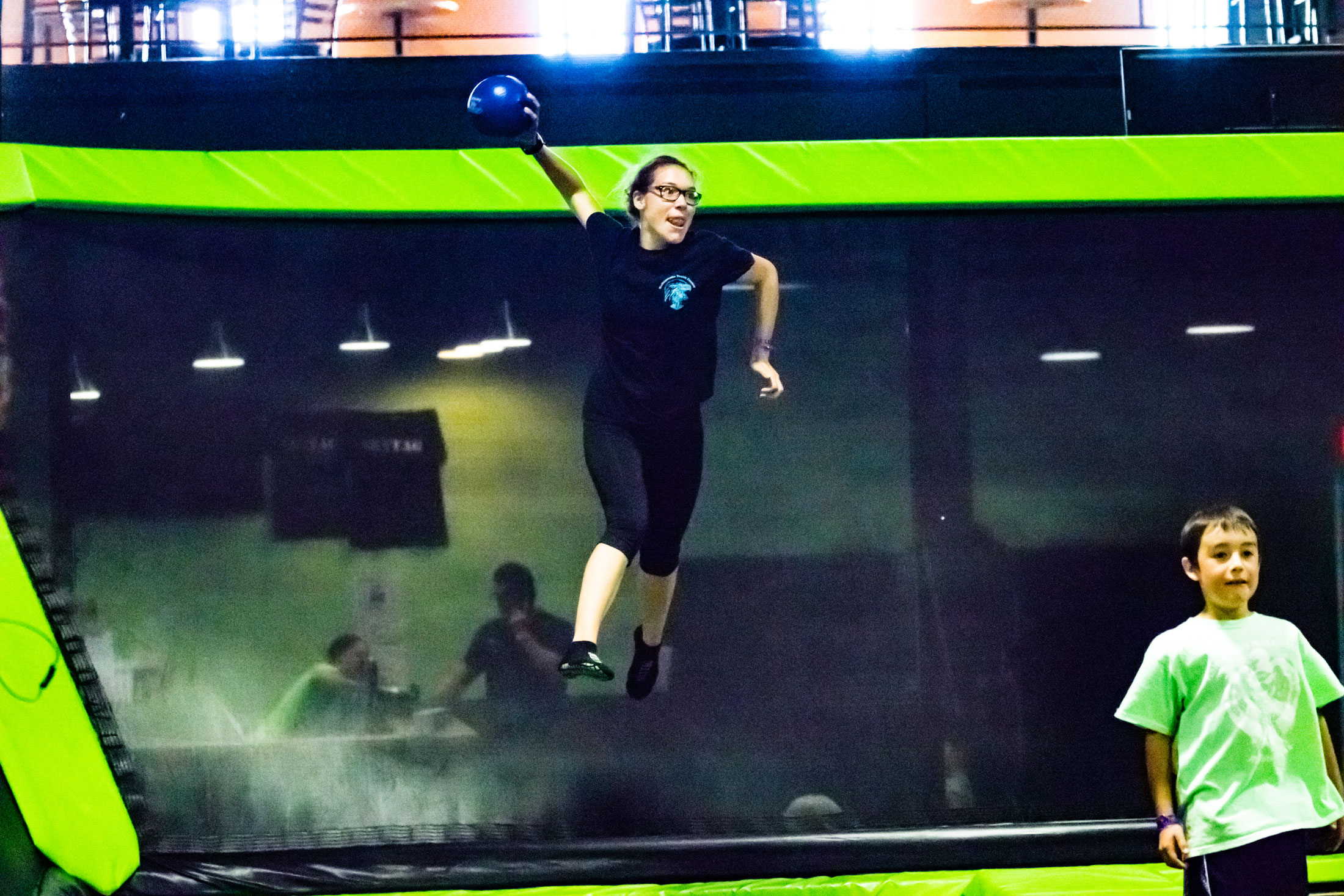 THE PIT
ALTITUDE WITH A SOFT LANDING.
Where every landing is perfect.
With hundreds of foam cubes for energy absorption and cushioning, the SKYTAG Pit gives you a soft place to land. So, come practice your air tricks and jumps knowing that all your landings will be perfect ones in the soft foam ono matter how you land it will be soft The Pit.
SLACK LINE
WALK THE LINE OVER THE PIT.
Arms out... Keep your balance…. don't look down! Suspended over hundreds of foam cubes, the slack line is not just for circus performers. Try balancing as you walk from one end to the other, or show off your bouncing skills using the slack line to propel yourself into the air. No matter what your skill level, you'll love the slack line. This activity is sure to test your skills!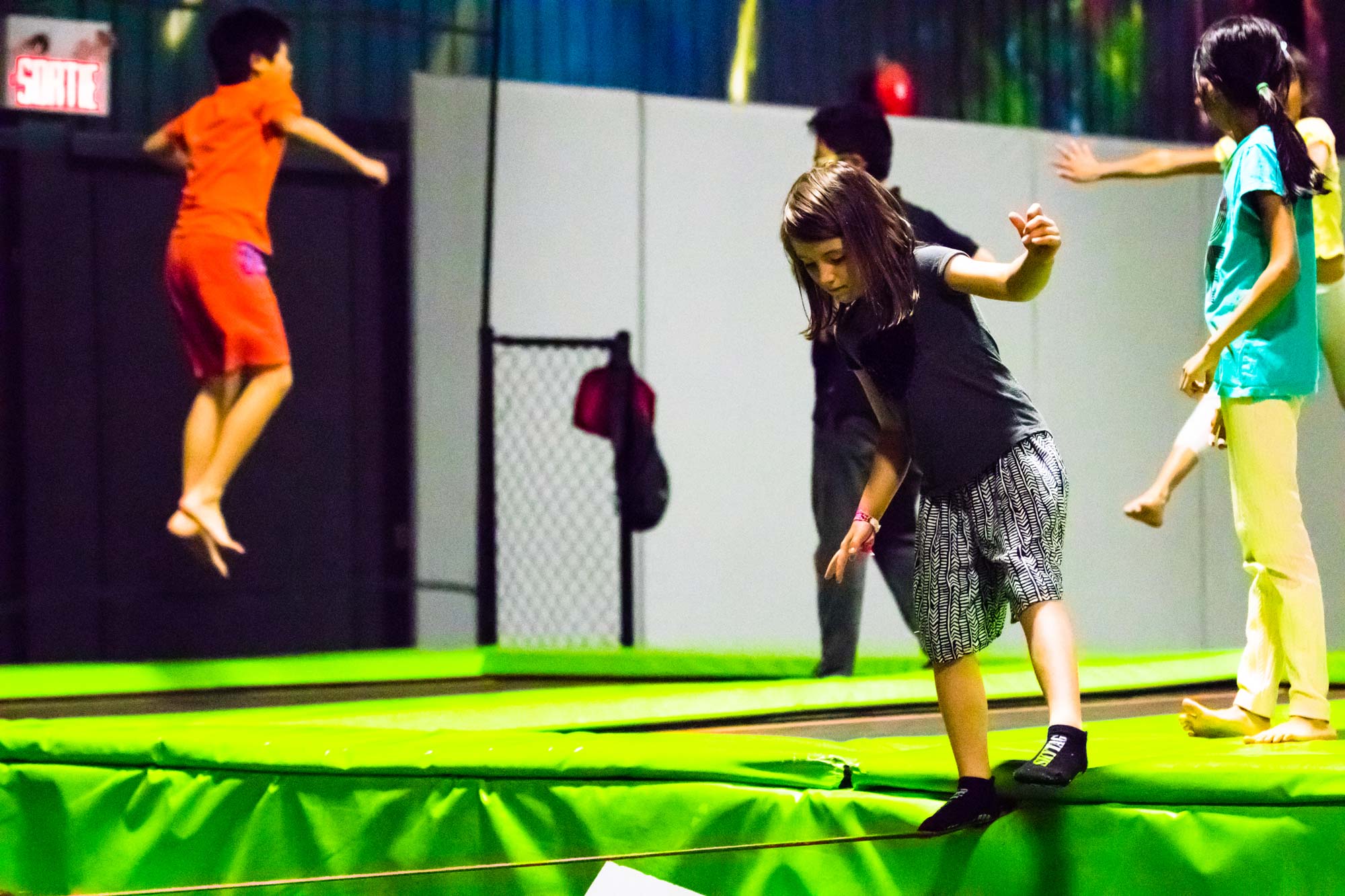 LASER TAG
PREPARE FOR BATTLE.
SKYTAG's laser tag arena lets you experience laser tag like never before. Our 2-story arena and high-tech equipment provide an immersive and thrilling experience, where you defend you strike out against opponents while defending your base.
Great for playing with family and friends, laser tag is also the ideal team-building experience for co-workers. Ready for the challenge? Bring your friends, family, co-workers or just come alone and join in on a game.